The baseball games scheduled for today at West Texas and Borger have been cancelled due to weather.

What a great day of theatre at the Ritz today. Your Wellington High School One Act Play under the direction of Lana Tillman is your bi-district champion earning 1st place today after a tear jerking performance of The Miracle Worker. For the second week in a row, Hadlee Gomez was named the best performer. Named to the All-Star cast for the second week in a row was Madi Armstrong. Named to the Honorable mention all-star cast was Summer Neufeld and Kaseten Welch. Named best lights of the competition was Jacey Clark. The area competition will be April 1st in Lubbock. Congratulations WHS! You made our community proud today. 🚀🎭🏆🥇🚀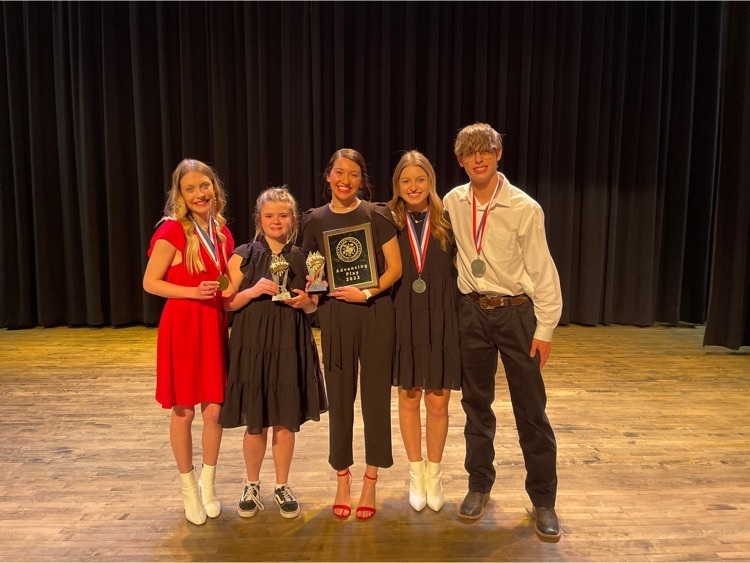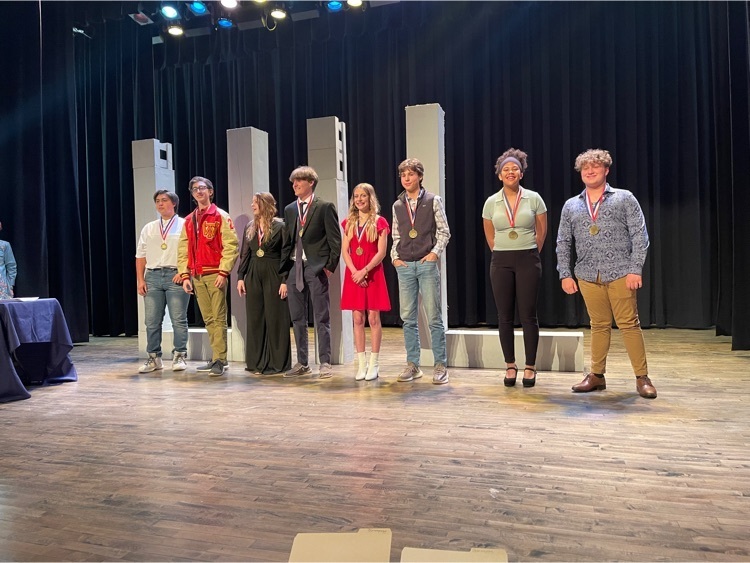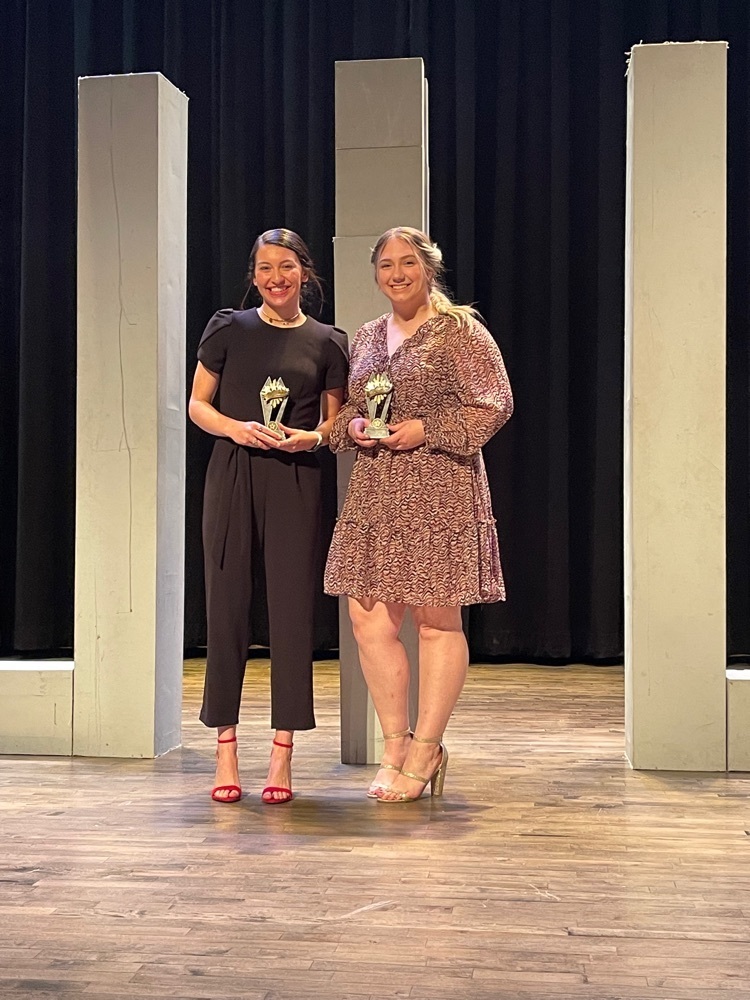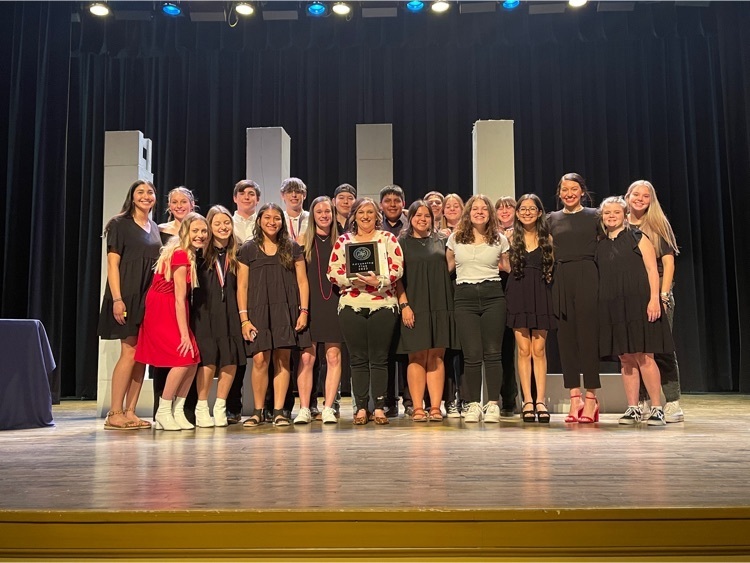 The Bi-District One Act Play contest is going on at the historic Wellington Ritz Theatre TODAY. All shows are open to the public. Wellington perform at 5pm. Three plays will advance from thus round to area. 1pm-Panhandle High School presents "The Arsonists" 2pm-Clarendon High School presents "On Golden Pond" 3pm-West Texas High School presents "I Remember Mama" 4pm-Sanford Fritch High School presents "Flowers for Algernon" 5pm-Wellington High School presents "The Miracle Worker" 6pm-Gruver High School presents "Harvey"

Skyrocket baseball will play in the Top of Texas Wood Bat Classic with two games on Thursday and two games on Saturday. Here is the complete schedule! Games will be played in Stinnett and Borger. 🚀⚾️🚀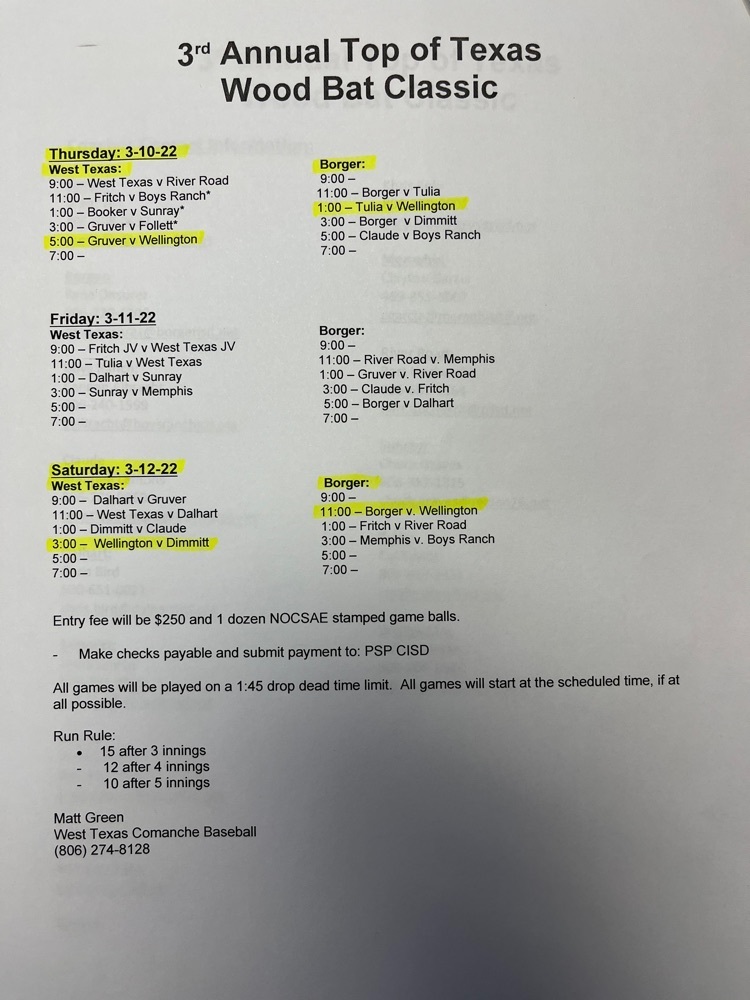 The Rocket Regiment earned a sweepstakes today at the UIL Concert and Sight Reading Contest in Panhandle. This is our first sweepstakes since 2019! They are under the direction of Justin Mixon. Congratulations band! 🚀🏆🎼🚀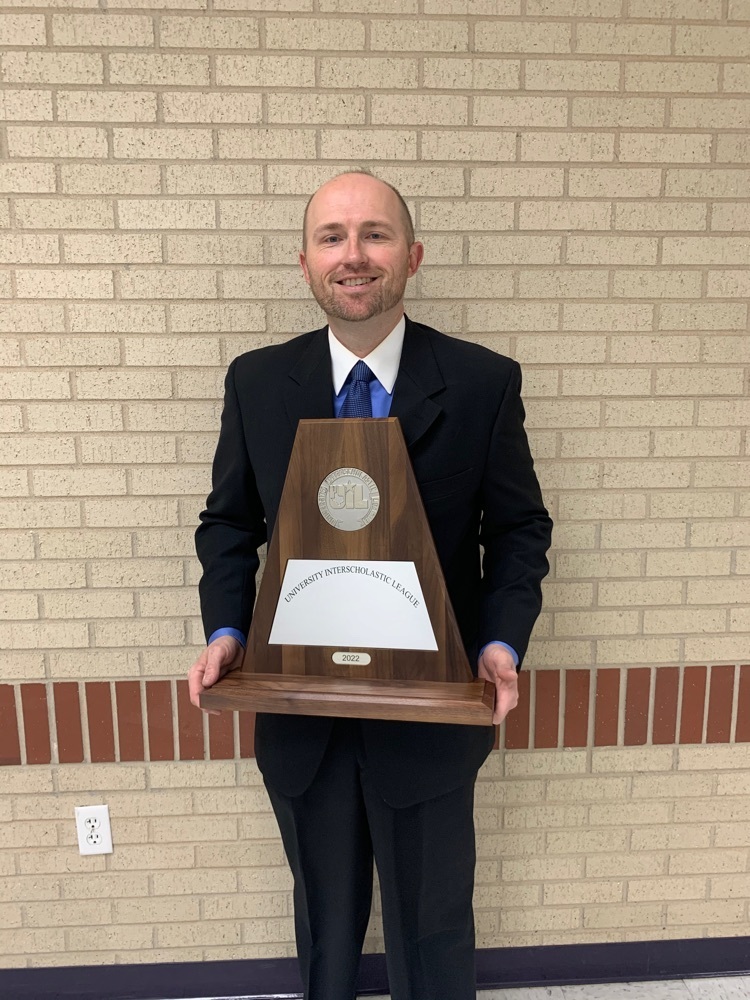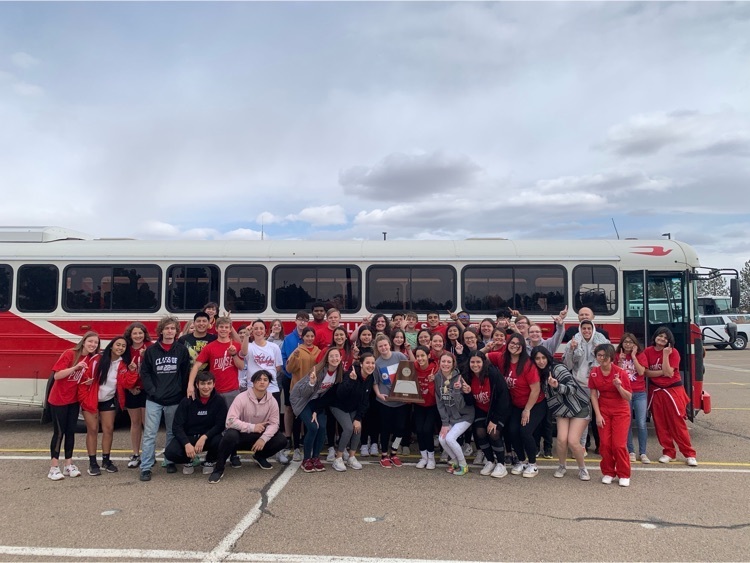 Our Lady Rockets and Rockets are competing in the Canadian High School Track Meet today. The 3200 meter run and field events start at 2pm with running finals scheduled for 5:15. Good luck! 🚀🏃‍♂️🏃‍♀️🚀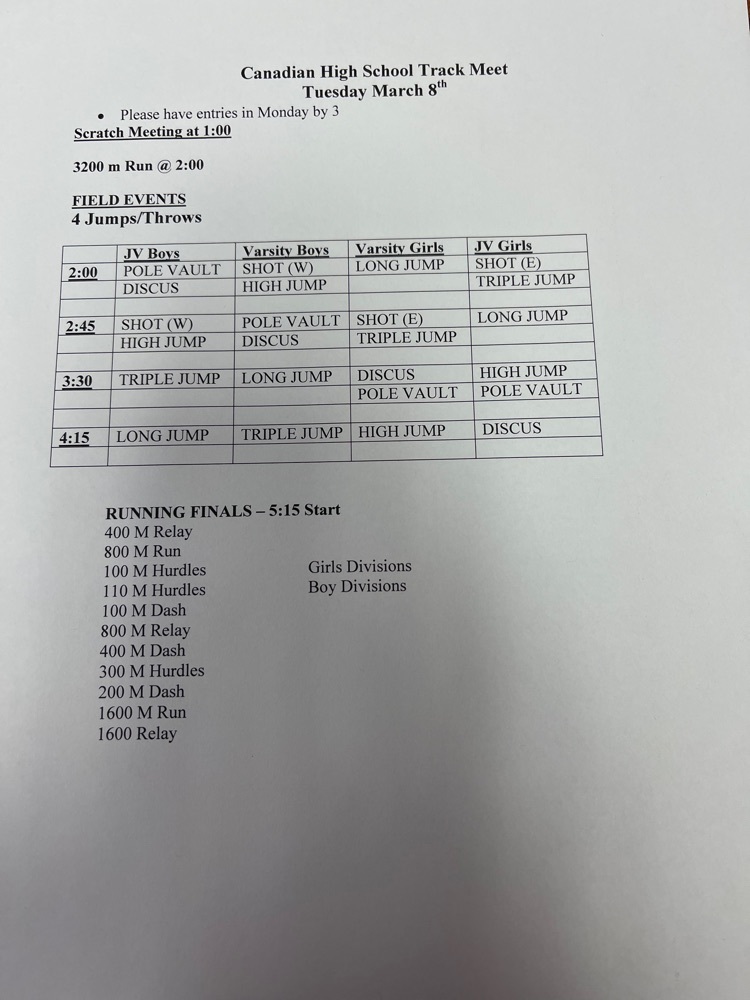 The cold weather didn't keep our WHS student athletes from competing today. The girls golf team of Kaitlin Bawcom, Kendra Bawcom, and Briley Waters competed in the Childress Tournament today. The Wellington Tennis Tournament was also held today with great results. Kayden Valles won 1st place in boys singles. Madeleine Kane and Summer Owens won 1st place in girls doubles. Nixon Folk and Carson Tarver won 1st place in boys doubles. Fabian Pina and Bryant Tarver got 2nd in boys doubles. Congratulations! 🚀⛳️🎾🚀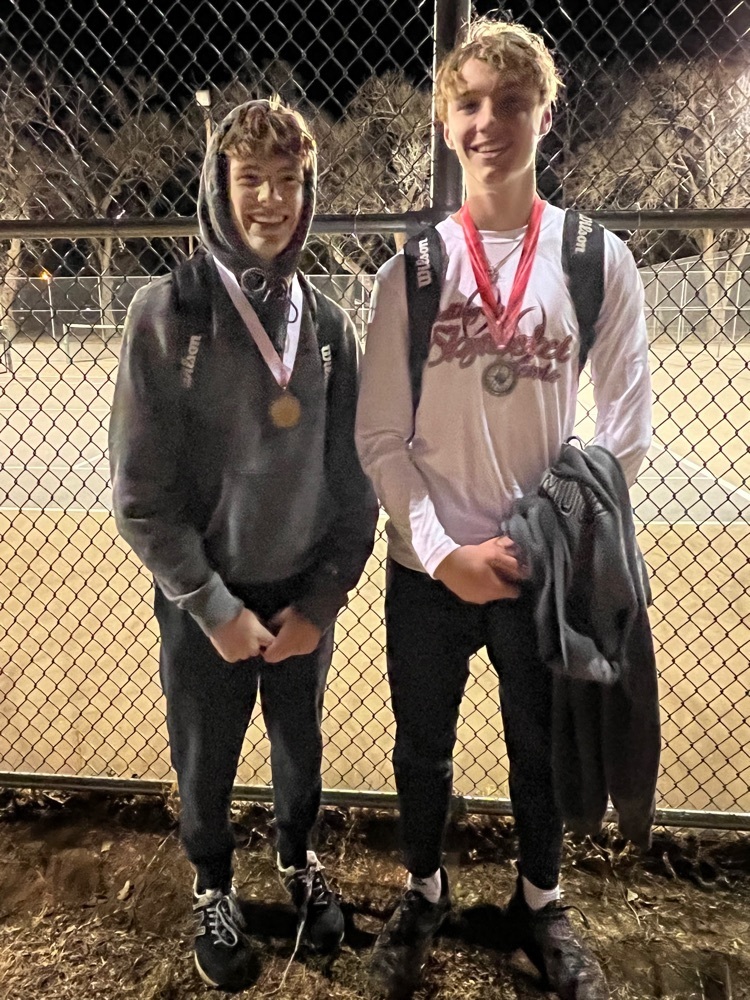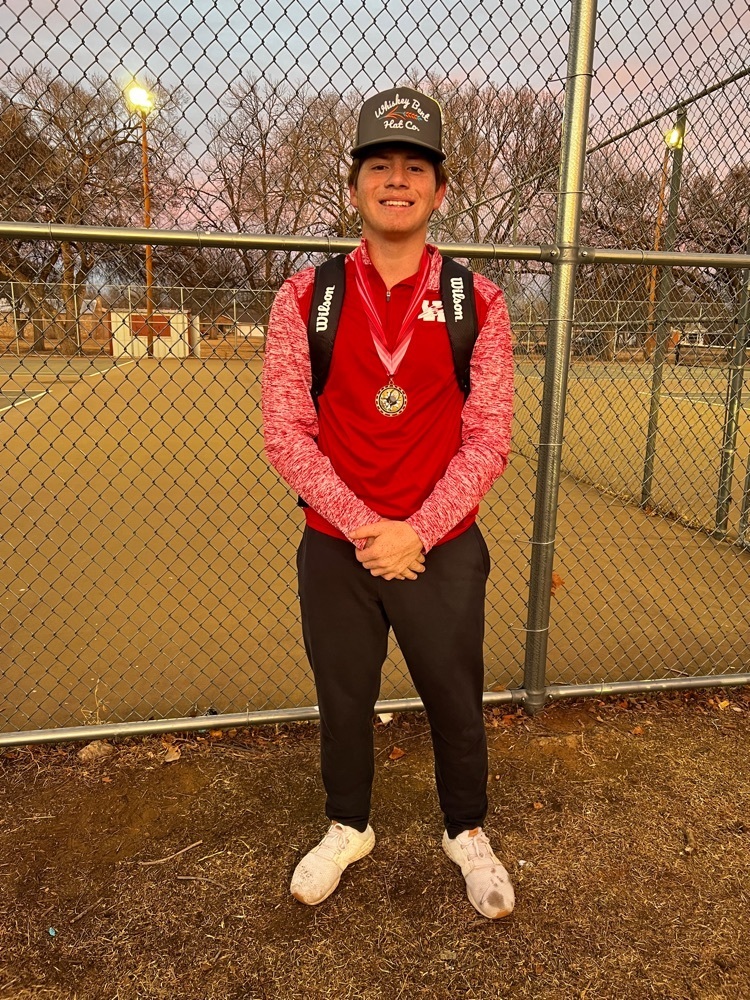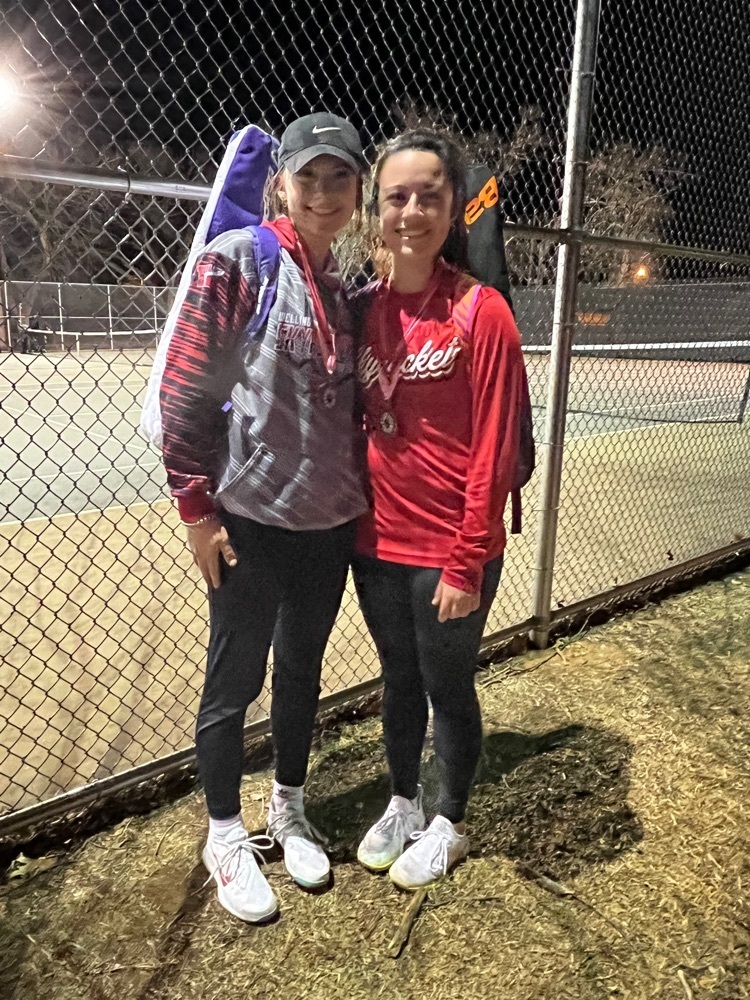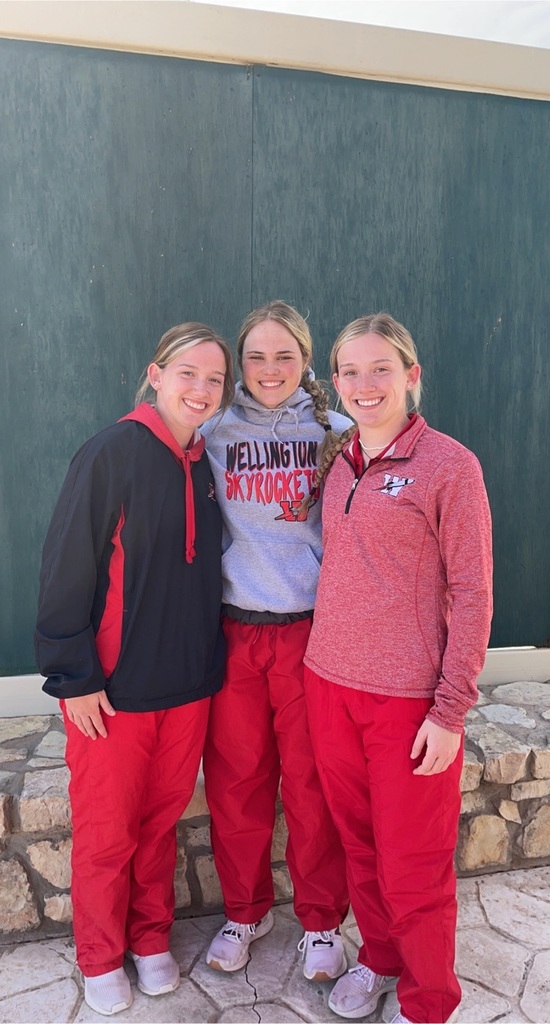 Here is this week in athletics. The high school track meet at Canadian has been moved from Friday to Tuesday due to weather. Junior high track meet on Thursday at Canadian will be running and throwing only starting at 3:30. Another busy week for the red and white. 🚀🏃‍♀️🏃‍♂️⚾️🎾⛳️🚀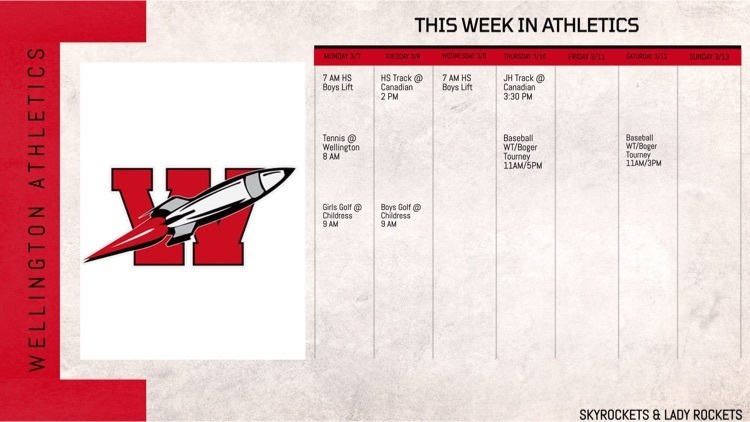 Skyrocket baseball wins their opening game today over Dimmitt in the Childress Tournament by a final score of 9 to 4. We dropped the opening game yesterday to state ranked Bushland. We play Childress at 1pm. Go Skyrocket baseball. 🚀⚾️🚀

All campuses will be dismissed at 12:30pm due to the power outage, but Junior High Rocket Relays is still on with field events starting at 3:30pm and running finals at 6pm. Visit the concession stand and buy a pulled pork sandwich. 🚀
Wellington ISD will dismiss at 12:30 due to the power outage on Friday, March 4th, 2022.

The Class of 2023 Junior Class ring ceremony is TODAY at noon in the high school gym. Family and friends are invited to attend this special occasion. 🚀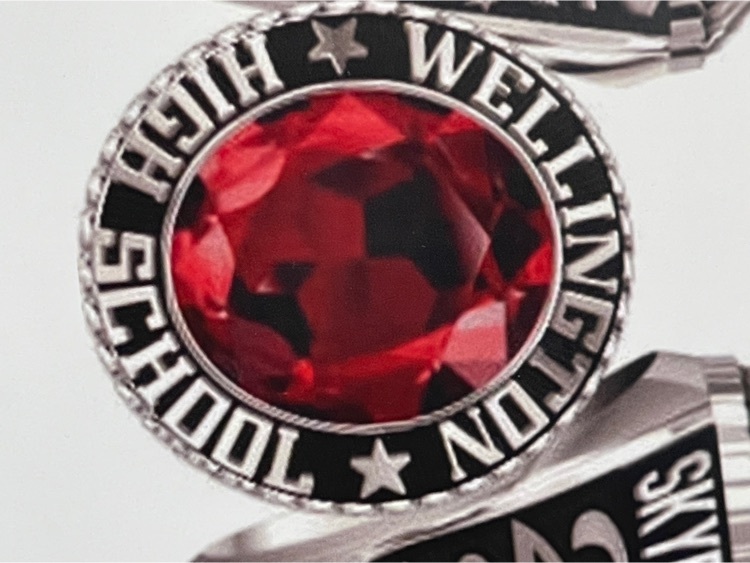 Baseball and track will be in full swing starting with Rocket Relays TODAY! Field events will start at 1:30pm with running events starting at 4pm. Stop by the concession stand and have some pulled pork smoked by Baron Tillman. 😋 A finalized schedule has been released for the Childress Baseball Tournament. We are no longer playing today, but will play Friday and Saturday. We play at 11 am on Friday vs Bushland and 11 am Saturday vs Dimmitt and 1 pm vs Childress. Go Skyrocket track and baseball! 🚀🏃‍♀️🏃‍♂️⚾️🚀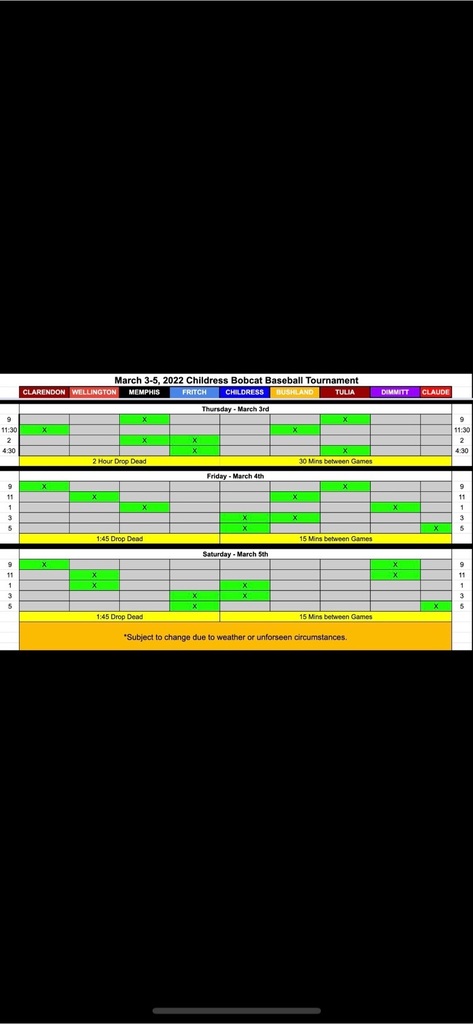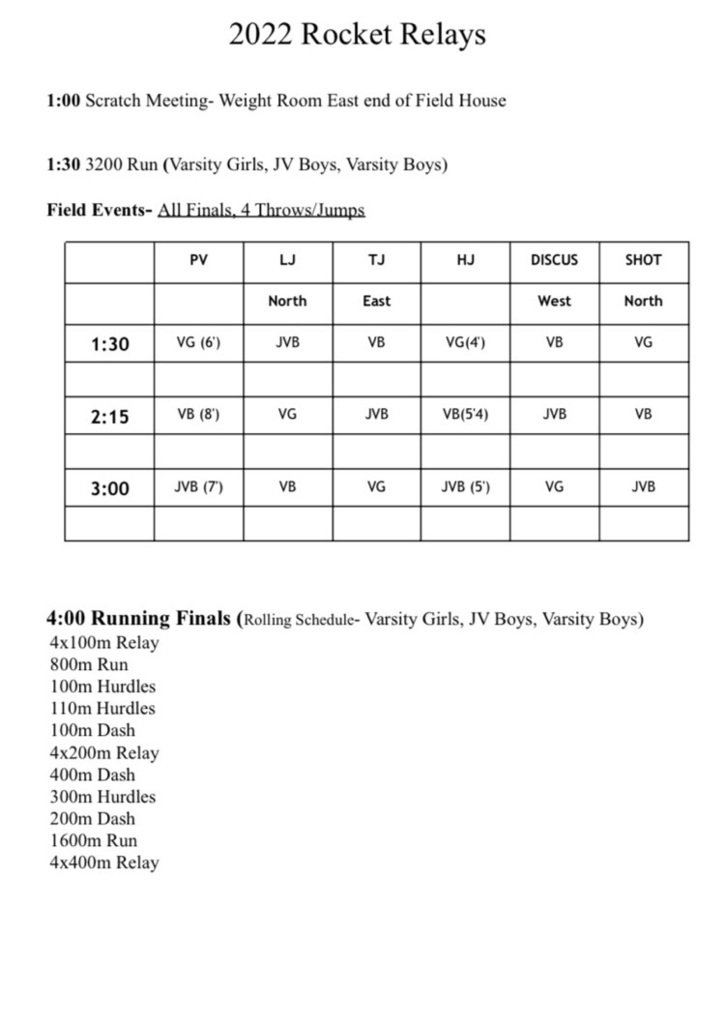 Wellington High School was chosen as an advancing play at the district competition today in Panhandle. We advance with Panhandle and Clarendon. Named to honorable mention all star cast was Summer Neufeld. Named for all-star cast was Madi Armstrong. Named the best performer (best actress) at the competition was Hadlee Gomez. The play was under the direction of Lana Tillman. Cast and crew included the following: Israel Acosta Brandon Cooper Dylan Skelton Kaseten Welch Jacey Clark Hadlee Gomez Madi Armstrong Caleb Strickland Harlee Gomez Brianna Agrero Cece Grandoz Marcus Lopez Summer Neufled Abby Garcia Currie Forrester Blaire Forrestor Jaci Porter Addy Mock Christell Melendez Congratulations! 🚀🎭🚀 Come watch these kids perform at bi-district at the Wellington Ritz Theatre next Wednesday.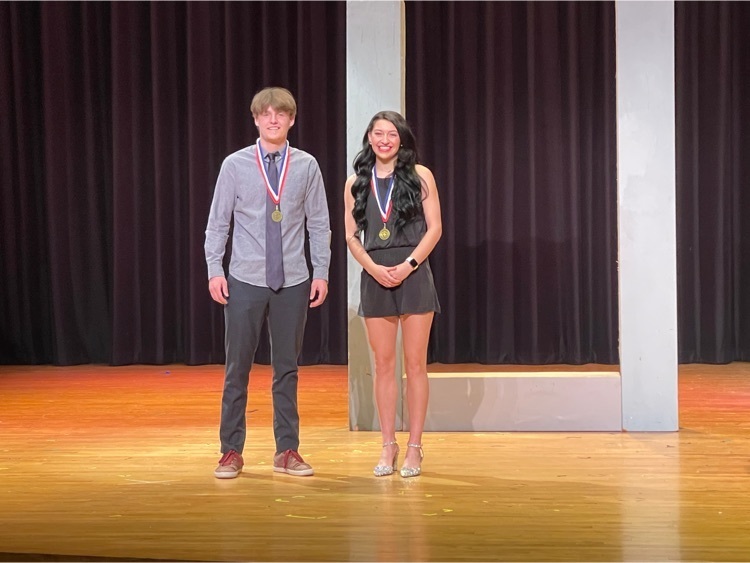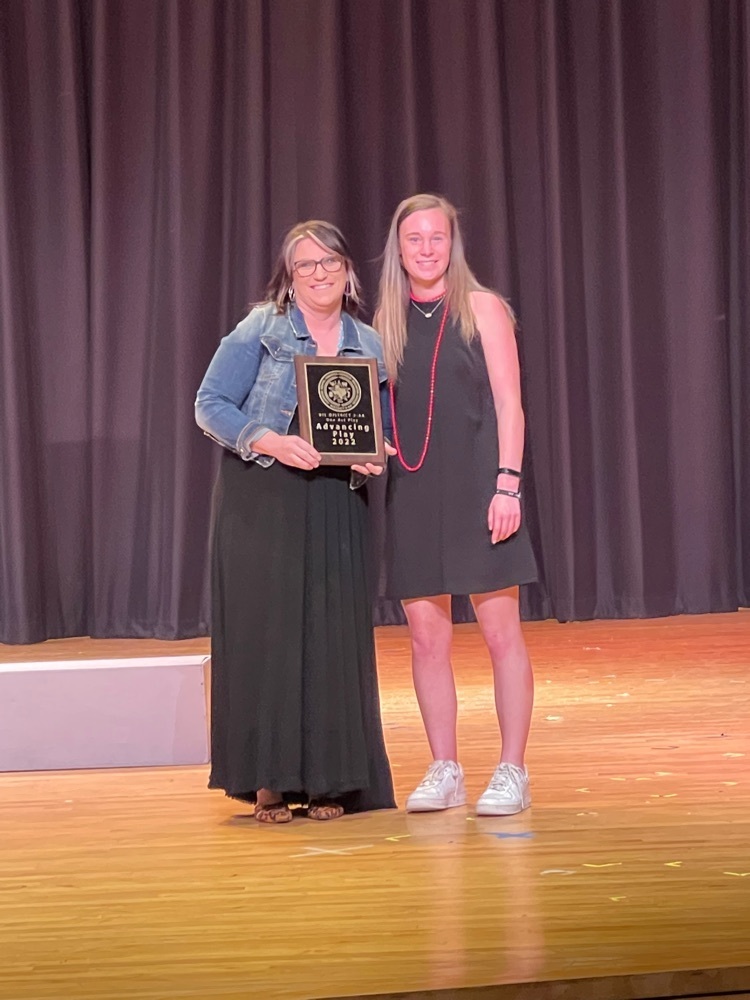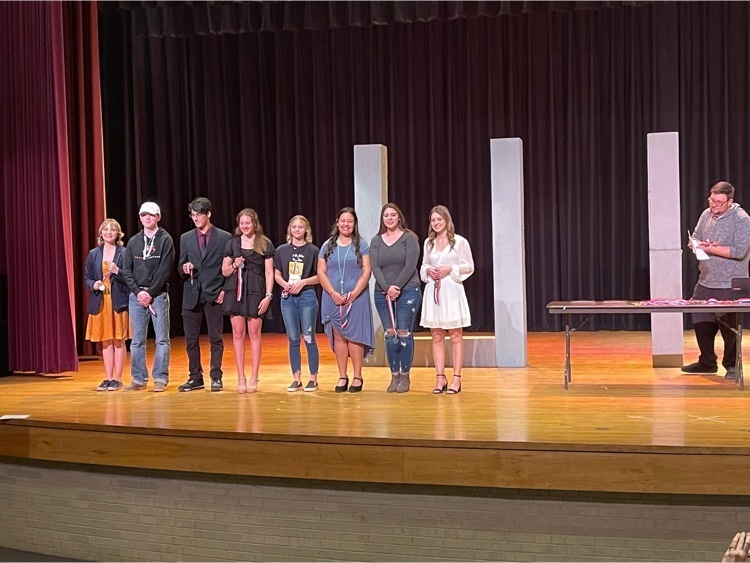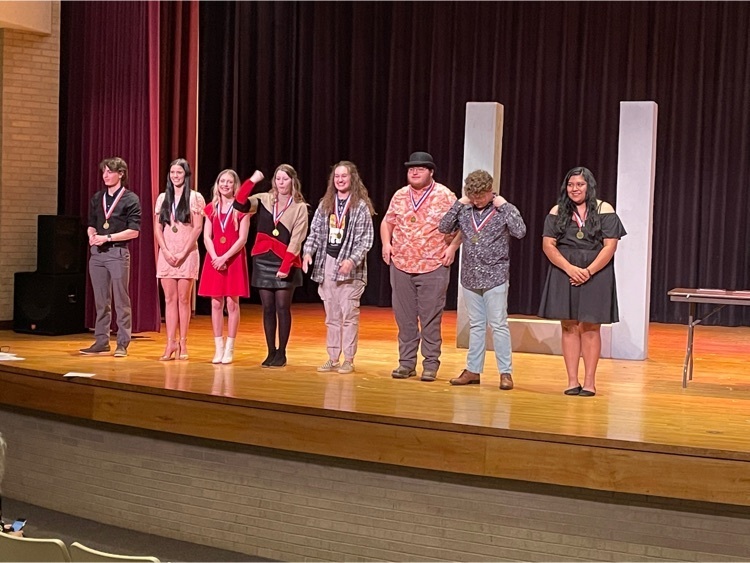 The cast and crew of the WHS One Act Play, The Miracle Worker, just delivered a stellar performance at the district one act play competition today. Results should be announced sometime after 7pm. Stay tuned!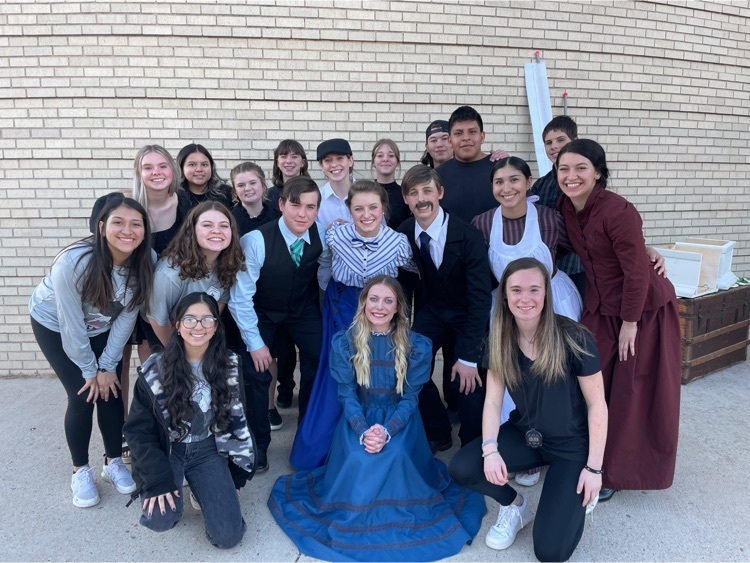 Marc Ramirez signed to continue his football career today at Hardin Simmons University after a tremendous four years for the red and white. Our Rocket 🚀 is now a Cowboy 🤠! Congratulations Marc! We are so proud of you!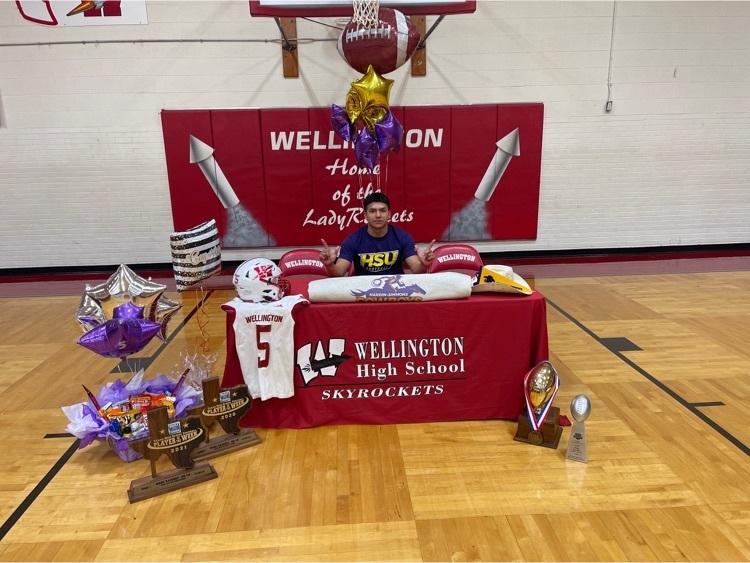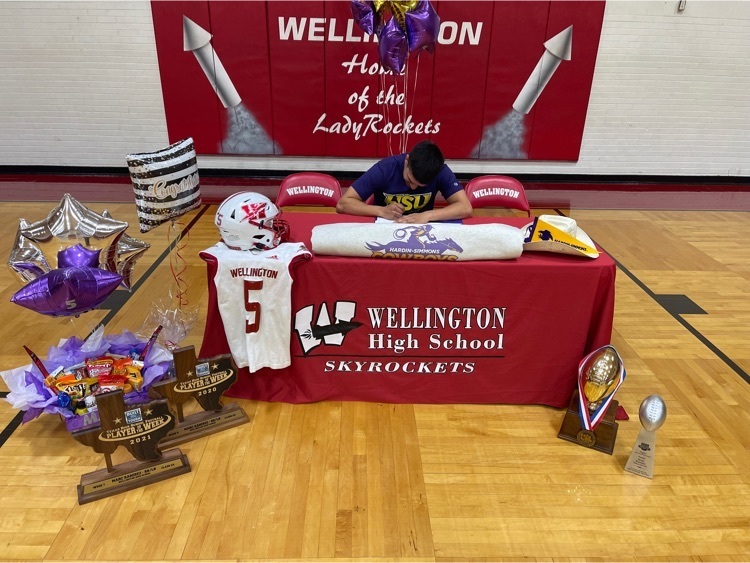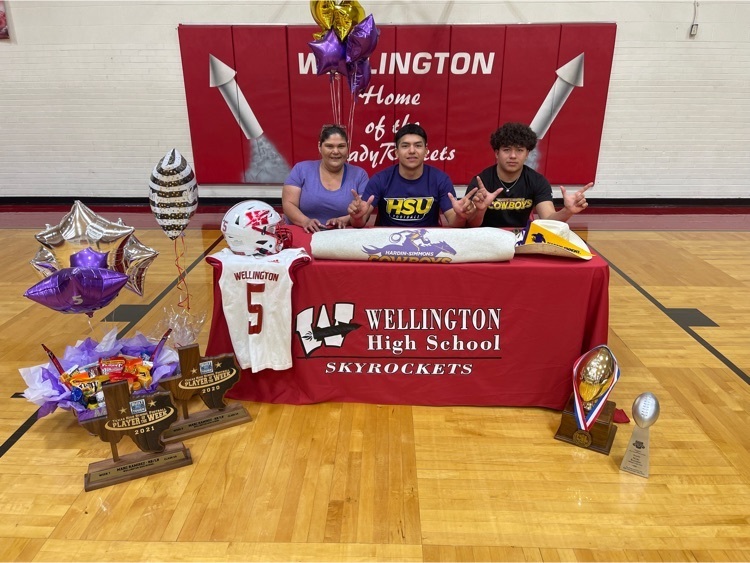 Skyrocket baseball opens the season today with a scrimmage at 4pm against Childress. On Friday and Saturday, our Rockets will play in the Childress Baseball Tournament. Rockets will play Bushland at 1pm on Friday, and on Saturday we will play Childress at 9am and Dimmitt at 1pm. Congratulations to seniors Creighton Killian and Kayden Valles on being named to the 2022 Amarillo Globe News Baseball Preseason Super Team. Let's play ball! 🚀⚾️🚀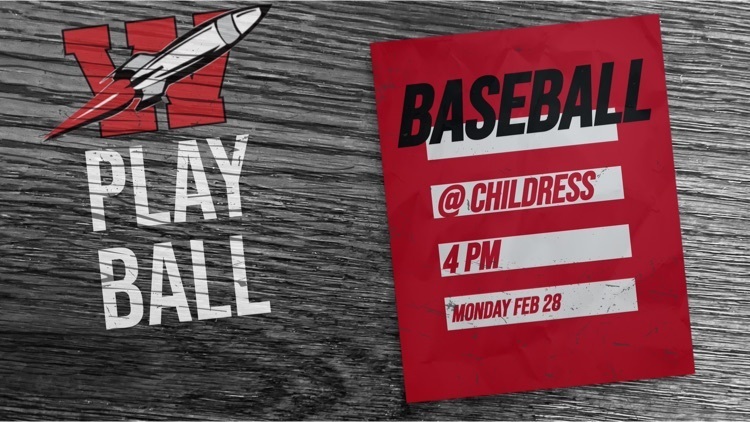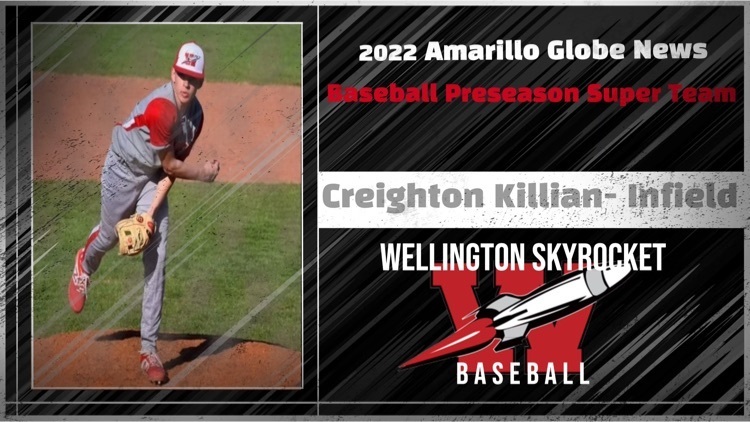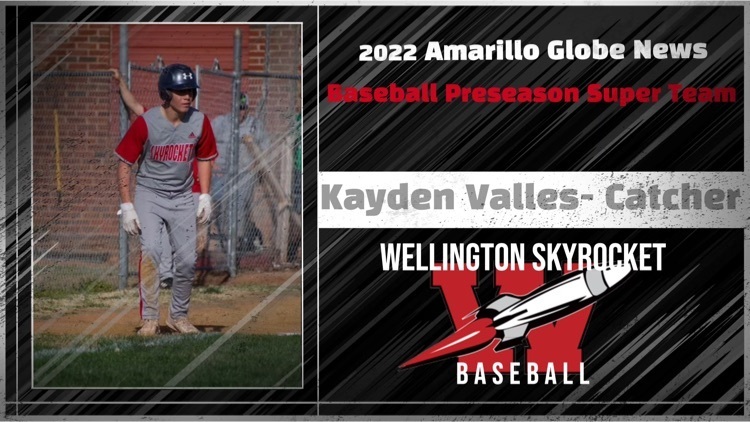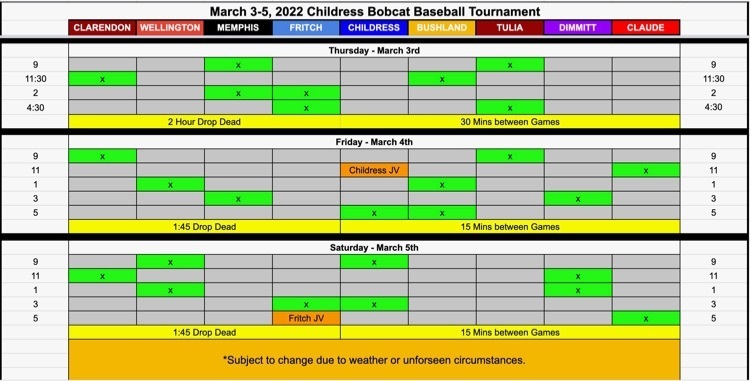 Due to the 1A regional final, game time for our Lady Rockets is looking to be a little past 3:45 at the Texan Dome. You can listen to the play by play with Cole Adams by clicking below. 🚀🏀🚀
https://paradisebroadcasting.com/kctx-96-1/

The regional championship is set. Our #10 state ranked Wellington Lady Rockets will battle the #1 ranked team in the state, the Gruver Lady Greyhounds, at 3:30 pm tomorrow at the Texan Dome on the campus of South Plains College. We believe in you Lady Rockets! To be the best, you have to beat the best. Let's come together and cheer loud tomorrow for our team. To get your tickets, click below. 🚀🏀🚀
https://www.southplainscollege.edu/uil/uil-basketball.php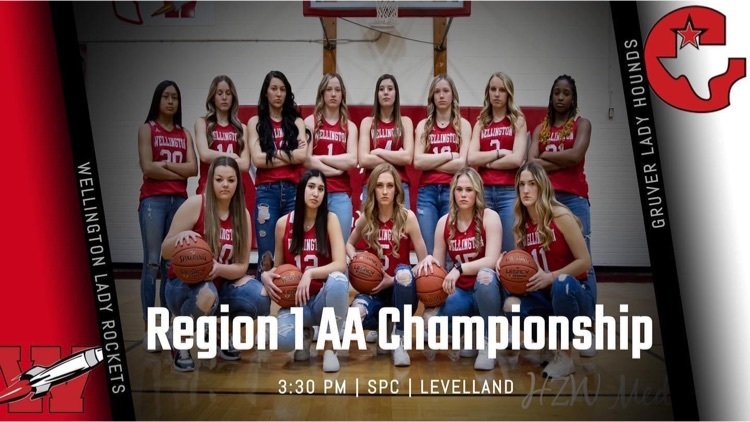 We hope you will join us in Levelland tonight, but if not Cole Adams will have the girls play by play on KCTX 96.1FM around 6:30pm or click on the link below to listen. Unfortunately, the boys game will not be broadcast. Go Lady Rockets & Rockets! 🚀🏀🚀
https://paradisebroadcasting.com/kctx-96-1/