Here is this week in athletics! Skyrockets are playing December football! 🚀🏈🏀🎄🚀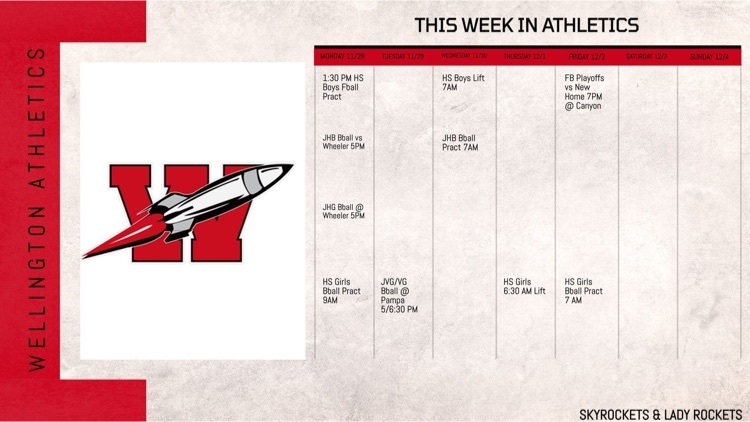 🚨 Skyrocket Playoff Football 🏈 State Quarterfinals 🚀 Wellington(V) vs New Home(H) 🏟 Happy State Bank Stadium 📍Canyon, TX 📅 Friday, December 2 ⏰ 7 PM 🏆 #GBSzn

Skyrockets defeat the Vega Longhorns by a final score of 26 to 7 winning the regional semi-final trophy. Rockets will now play New Home next week at a place and time still to be determined. Stay tuned! Congratulations Skyrockets! 🚀🏈🚀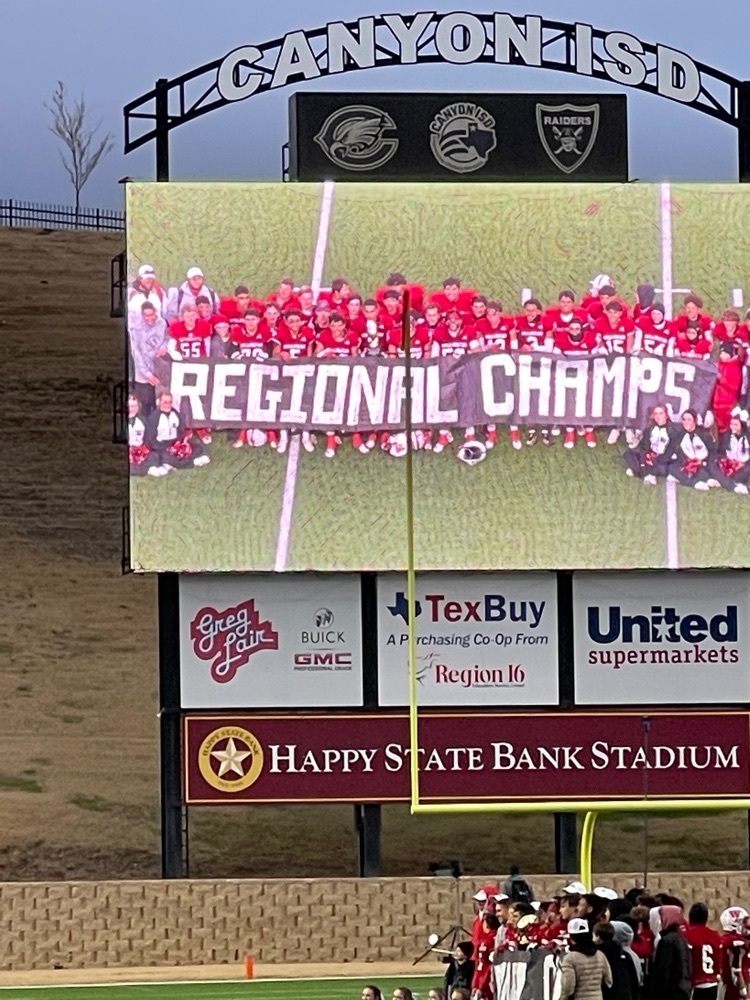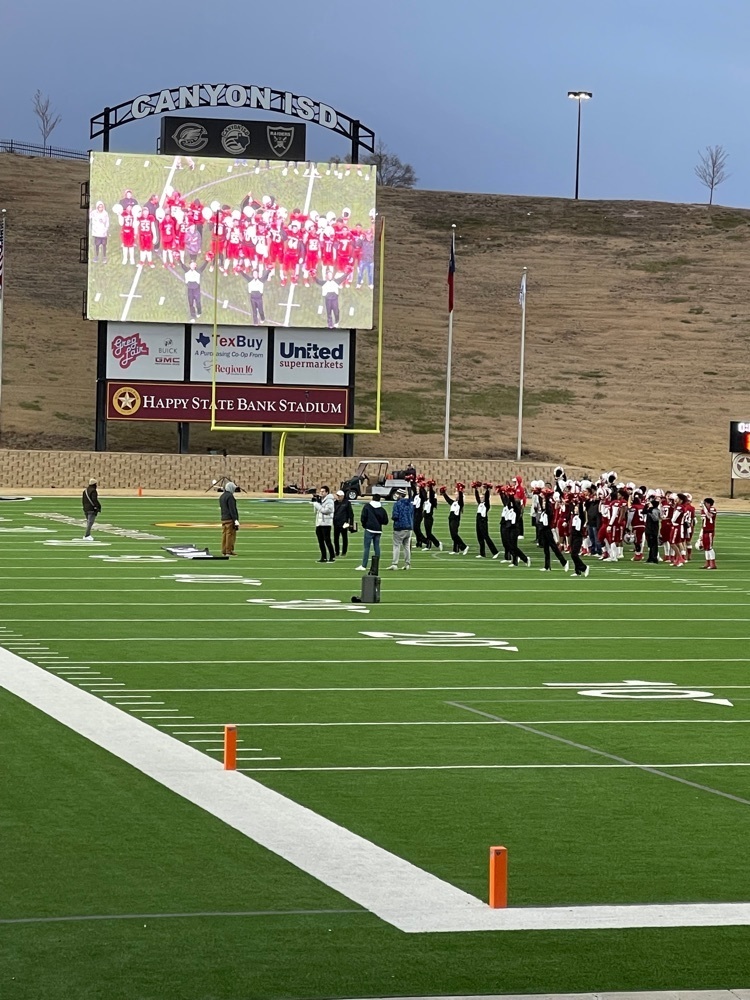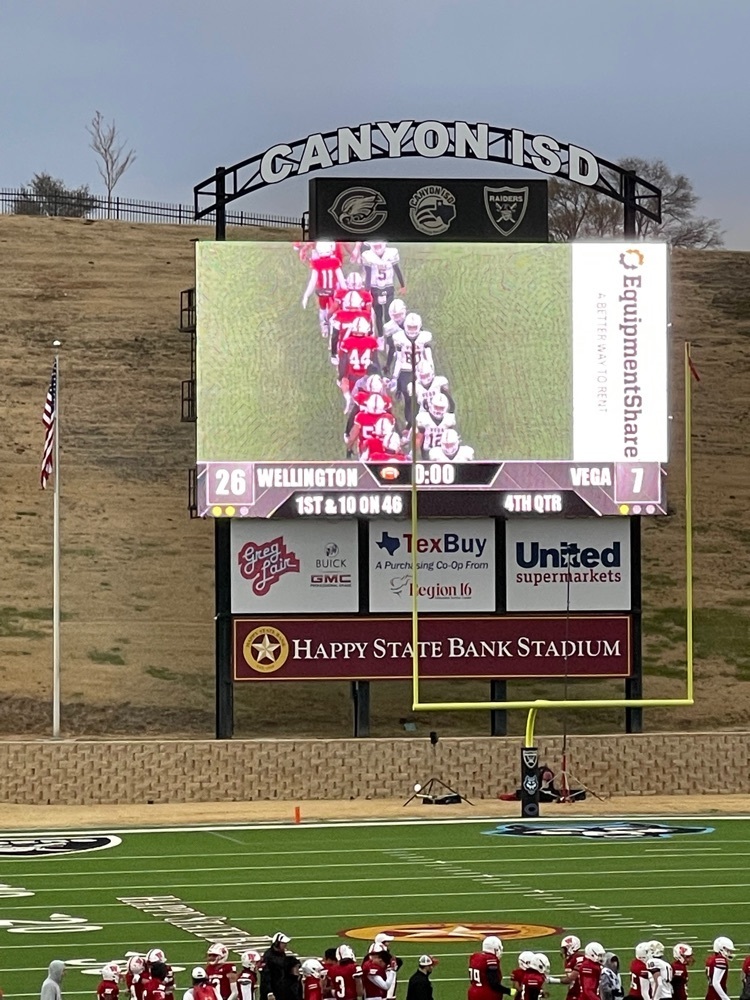 End of the 3rd quarter in the regional semifinal game in Canyon 🚀🏈🚀 Wellington 20 Vega 0

Halftime in the regional semi-final game in Canyon 🚀🏈🚀 Wellington 14 Vega 0

End of the 1st quarter in Canyon. 🚀🏈🚀 Wellington 8 Vega 0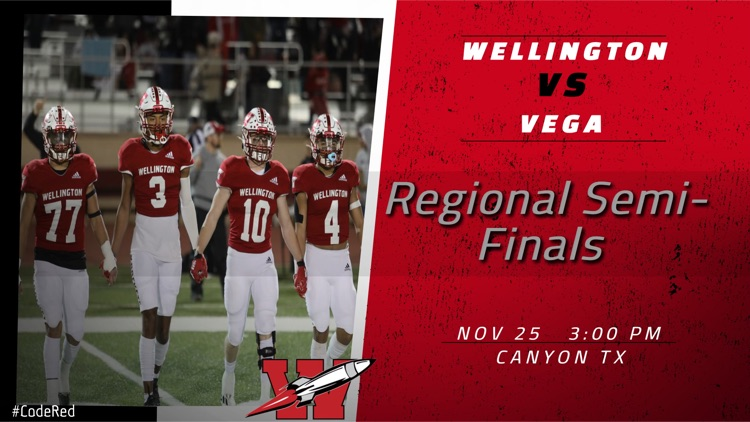 JV girls defeat Palo Duro's JV by a final score of 50 to 33 to split with PD for the night. 🚀🏀🚀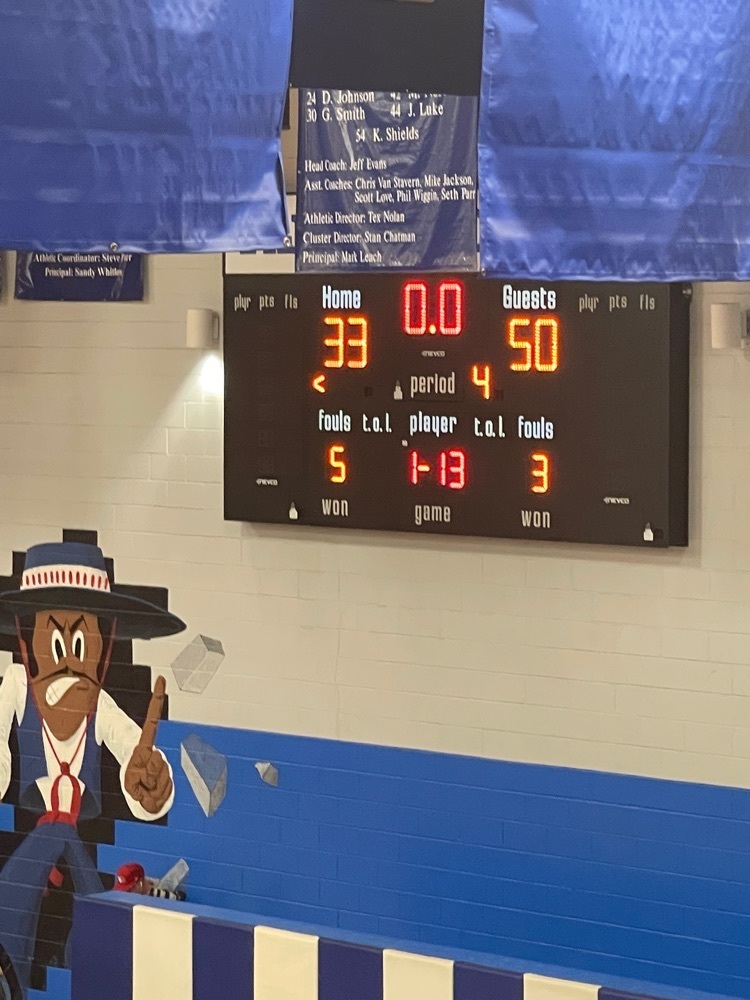 Lady Rockets struggled to get our shots to fall tonight in Amarillo losing to 5A Amarillo Palo Duro by a final score of 26 to 39.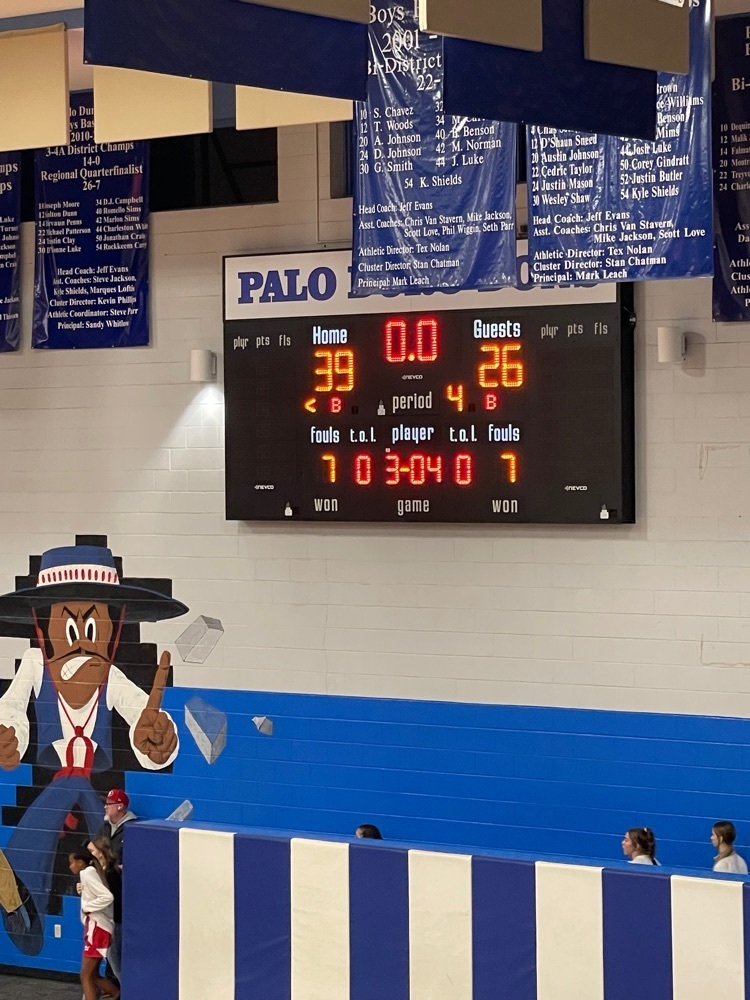 There has been a schedule change for Lady Rocket basketball tomorrow in Amarillo against Palo Duro. Varsity girls will play first at 6:00 followed by JV girls at 7:30. You can pursue tickets in advance by clicking below OR you may purchase your tickets on-site at Palo Duro. Go Lady Rockets! 🚀🏀⛹🏽‍♀️🚀
https://www.amaisd.org/hometown
Wellington ISD is canceling school on Tuesday, November 22nd due to the high numbers of illness. The custodial staff will be deep cleaning and sanitizing all buildings during this time. Have a safe Thanksgiving break.

Here is this week in athletics! 🚀⛹🏽‍♀️🏀🏈🚀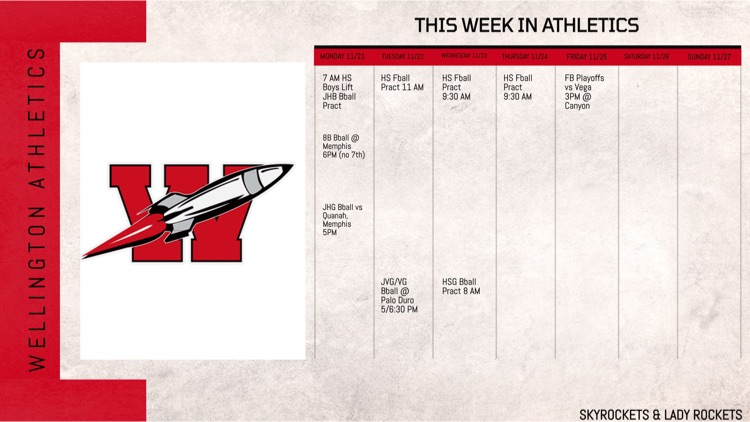 🚨 Skyrocket Playoff Football 🏈 Reg Semifinal Championship 🚀 Wellington vs Vega 🏟 Happy State Bank Stadium 📍Canyon, TX 📅 Friday, November 25 ⏰ 3 PM 🏆 #GBSzn

Lady Rockets battled with the state's #1 ranked team, Sands, but fell in a nail biter by a final score of 32 to 34. Lady Rockets finished an extremely tough Abernathy Tournament with a 2-2 record. Lady Rockets continue on the road Tuesday in Amarillo with JV and Varsity girls against 5A Palo Duro! 🚀🏀🚀

Skyrockets are area champions after a 48-0 win over Sudan tonight in Amarillo. Stay tuned for information about the regional round coming next week during Thanksgiving break. Go Rockets! 🚀🏈🦃🚀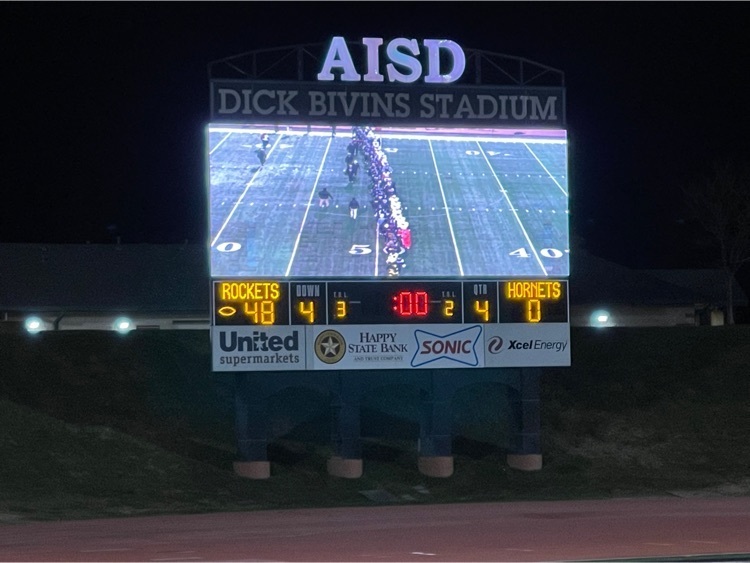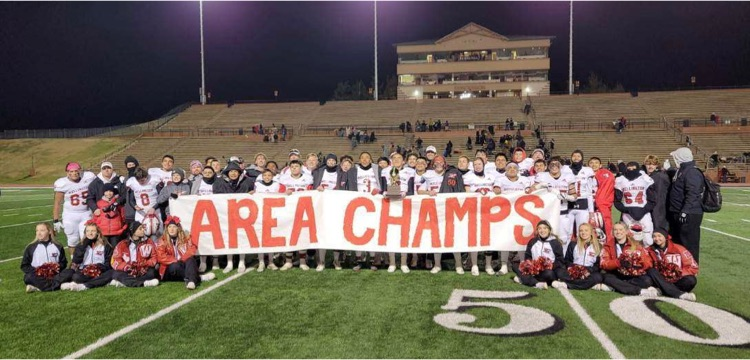 End of the 3rd quarter in the area championship game in Amarillo 🚀🏈🚀 Wellington 40 Sudan 0

Halftime in the area championship game in Amarillo 🚀🏈🚀 Wellington 24 Sudan 0

End of the 1st quarter in the area championship game in Amarillo 🚀🏈🚀 Wellington 16 Sudan 0